The Westward Journey Nickels (Buy on eBay) were issued during the years 2004 to 2006, intended to celebrate the 200th anniversary of the Louisiana Purchase and the famous expedition through the territory by Lewis and Clark. During these years, the Jefferson Nickel featured four new reverse designs and two new obverse designs. At the conclusion of the series, the second obverse design would remain permanent, while the original Monticello reverse was resumed.

The 2004 Westward Journey Nickels featured the same classic obverse design by Felix O. Schlag, paired with two different reverse designs. The first design was based on the Peace Medal which had been presented to Native Americans within the Louisiana Purchase as a sign of goodwill. The design adapted by Norman E. Nemeth after the original. The second reverse design by Alfred Maletsky depicts the Keelboat that was used for Lewis & Clark's famous expedition.

A new obverse design was introduced for the 2005 Westward Journey Nickels. A right facing portrait of Thomas Jefferson was presented, designed by Joe Fitzgerald after a marble bust made by Jean-Antoine Houdon. The word "Liberty" appears in script based on Jefferson's handwriting. The first reverse design featured an American buffalo designed by Jamie Franki and sculpted by Norman E. Nemeth. The second design featured a view of the western waters and words from Clark's famous journal entry "Ocean in view! O! The joy!" This final reverse was designed by Joe Fitzgerald and sculpted by Don Everhart.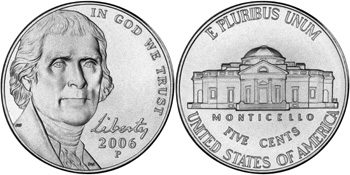 The conclusion of the Westward Journey Nickels was marked by a second new obverse design paired with the original reverse design. Dubbed "Return to Monticello," the obverse was designed by Jamie Franki and sculpted by Donna Weaver based on a Rembrandt Peale painting from 1800. The restored reverse design saw the addition of Felix O. Schlag's initials "FS" at the base of the right side of Monticello. These obverse and reverse designs have been used for each subsequent year of the Jefferson Nickel series to date.

< Full Steps Jefferson Nickels