The Jefferson Nickel replaced the highly popular Buffalo Nickel, which was first struck in 1913. By law, design changes for any given denomination were restricted for a period of 25 years. Thus, it was not until 1938 that it was first possible to change the nickel's design.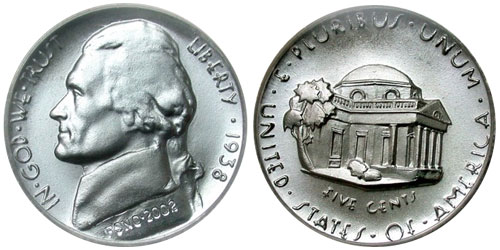 Design Competition
The Treasury Department announced a public competition early that year to select the new design. According to the rules of the competition, the obverse was to feature "an authentic portrait" of Thomas Jefferson, 3rd president of the United States from 1801 to 1809. The reverse had to feature "a representation of Monticello—Jefferson's historic home near Charlottesville."
A total of 390 different designs were submitted for the competition. The winning model was prepared by Felix O. Schlag. He was awarded the sum of $1,000 for his winning design. Some changes to his submitted design were made, including replacing the stylistic lettering with a more formal style, and replacing his three-quarters view of Monticello with a more static one. A palm tree which originally appeared was also removed.
Final Design
The final design for the Jefferson Nickel featured an elegant bust of Thomas Jefferson facing to the left on the obverse. As required by law, the motto "IN GOD WE TRUST" appears in front of Jefferson. Behind, is the word "LIBERTY" and the date. The reverse, besides the previously mentioned depiction of Monticello, included the inscription "E PLURIBUS UNUM" above Jefferson's home and "MONTICELLO," "FIVE CENTS," and "UNITED STATES OF AMERICA" below.
Felix O. Schlag's modified obverse and reverse designs were used without interruption from 1938 to 2003. In the following year, the Westward Journey Nickels would bring both temporary and permanent changes to the series. The original obverse was used in 2004, paired with two different, newly prepared reverse designs. In 2005, a new obverse was used together with two more different reverse designs. Finally, in 2006, a second new obverse design was introduced and paired with the original reverse. This combination has been used for all subsequent years.


Full Steps Jefferson Nickels >