Proof Jefferson Nickels (Buy on eBay) were struck for collectors during most years of the series with a few short gaps in production. The earliest Proofs were struck between 1938 and 1942. During this era, the Philadelphia Mint issued Proof coins to collectors either individually or as part of a complete set. The availability of the coins individually resulted in higher mintages for 1938, the first year for the new design, and for 1942, when the coins were offered in both standard and silver composition. Production of Proofs would be suspended after this point due to the Second World War. The lowest Proof mintage for this era occurred for the 1939 Proof Jefferson Nickel at 12,535 pieces.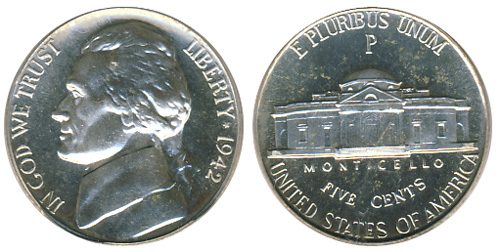 Proof coin production would resume in 1950 and run until 1964. During this time, Proof coins were issued as part of packaged sets containing all denominations struck for the year. Mintage levels began at 51,386 for the 1950 Proof Jefferson Nickel, but spiraled into the millions as coin collecting and the popularity of Proof Sets increased. From 1965 to 1967, Proof coins were not issued, however the Mint did produce Special Mint Sets for collectors. From 1968 onward, all Proof coins were struck at the San Francisco Mint and issued within annual Proof Sets.
The lowest mintage Proof Jefferson Nickels are the earliest years of issue from 1938 to 1942. Other notable issues include the 1994-P and 1997-P Matte Proof issues, which were only included within limited edition commemorative coin sets. From 1992 to present, Proof nickels have been included in both the regular Proof Set as well as the Silver Proof Set, resulting in elevated mintages
Unless noted, figures represent the final mintages published by the U.S. Mint. Where applicable, mintages include combined sales totals across all product offerings. For numbers marked with an asterisk (*), refer to the mintage notes following the tables.
Proof Jefferson Nickel Mintages
| Issue | Mintage |
| --- | --- |
| 1938 | 19,365 |
| 1939 | 12,535 |
| 1940 | 14,158 |
| 1941 | 18,720 |
| 1942 | 29,600 |
| 1942-P Silver | 27,600 |
| 1950 | 51,386 |
| 1951 | 57,500 |
| 1952 | 81,980 |
| 1953 | 128,800 |
| 1954 | 233,300 |
| 1955 | 378,200 |
| 1956 | 669,384 |
| 1957 | 1,247,952 |
| 1958 | 875,652 |
| 1959 | 1,149,291 |
| 1960 | 1,691,602 |
| 1961 | 3,028,144 |
| 1962 | 3,218,019 |
| 1963 | 3,075,645 |
| 1964 | 3,950,762 |
| 1968-S | 3,041,506 |
| 1969-S | 2,934,631 |
| 1970-S | 2,632,810 |
| 1971-S* | 3,220,733 |
| 1972-S | 3,260,996 |
| 1973-S | 2,760,339 |
| 1974-S | 2,612,568 |
| 1975-S | 2,845,450 |
| 1976-S | 4,149,730 |
Proof Jefferson Nickel Mintages Continued
Proof Jefferson Nickel Mintages Continued
*Proof Jefferson Nickel Mintage Notes: