During World War II, the Jefferson Nickel series underwent a significant change. Since nickel was identified as a strategic metal for the war effort, the composition of the five cent piece was changed to 35% silver, 9% manganese, and 56% copper. The 1942-1945 Silver Wartime Nickels (Buy on eBay) minted from 1942 to 1945 create an interesting short set within the broader series.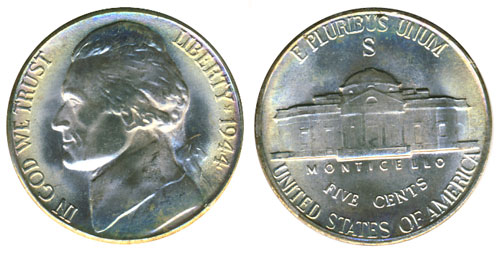 Production of the first "Wartime Nickels" began at the Philadelphia Mint on October 8, 1942. Earlier in the year nickels had been produced in their standard composition. To identify the coins struck with the new composition, a large sized mint mark was placed on the reverse of the coins, above Monticello. The mintmarks "P," "D," or "S" were used for the Philadelphia, Denver, and San Francisco Mints. Notably, this was the first time that a mint mark had been used for coins produced in Philadelphia.
Silver Jefferson Nickels were produced through 1945, after which point the composition would revert to the previous standard. During the four years of production, the U.S. Mint had struck more than 870 million of the 35% silver nickels. A complete set will include 11 coins. The 1942-P Silver Jefferson Nickel was also struck in Proof format with a mintage of 27,600 coins. All coins remain readily available even in uncirculated grades, although some issues are more difficult to find with full steps.
Silver Wartime Jefferson Nickel Coins
1942: 1942-S Silver Jefferson Nickel, 1942-P Silver Proof Jefferson Nickel
1943: 1943-S Silver Jefferson Nickel, 1943-D Silver Jefferson Nickel, 1943-P Silver Jefferson Nickel
1944: 1944-S Silver Jefferson Nickel, 1944-D Silver Jefferson Nickel, 1944-P Silver Jefferson Nickel
1945: 1945-S Silver Jefferson Nickel, 1945-D Silver Jefferson Nickel, 1945-P Silver Jefferson Nickel
Coin Specifications
Designer: Felix O. Schlag
Denomination: $0.05
Composition: 35% silver, 9% manganese, and 56% copper
Diameter: 20.5 mm
Weight: 5 g
Edge: plain

< 1942-D Over Horizontal D Jefferson Nickel | 1950-D Jefferson Nickel >