The circulation strike 2009 Jefferson Nickels (Buy on eBay) had extremely low mintages and sold at premiums ever since the coins started to appear in the channels of circulation. The first Philadelphia Mint coins surfaced in June 2009, while the Denver Mint coins did not appear until early 2010.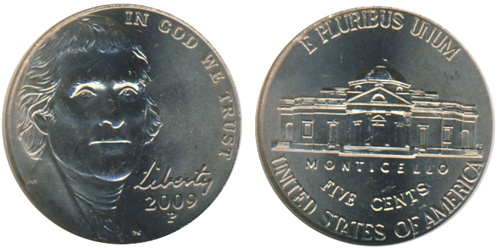 Typical mintages for the circulating five cent coin had been in the hundreds of millions or billions for more than three decades. In late 2008 and into 2009, economic conditions slowed the movement of coins within circulation and caused Americans to cash in hoards of old change. With little need for newly produced coins, the Federal Reserve reduced coinage orders from the United States Mint and production fell dramatically.
The 2009-P Jefferson Nickel had a final mintage of 39,840,000 coins and the 2009-D Jefferson Nickel had a mintage of 46,800,000. These represented the lowest mintages for circulation strike nickels since 1959. A rebound in mintage levels during 2010 solidified the status of the 2009 Jefferson Nickel as an important low mintage issue.
Note that satin finish versions of the 2009-P and 2009-D nickels were struck for inclusion within the 2009 Uncirculated Mint Set. These Satin finish coins are considered a separate issue by most collectors and the major grading services.
Coin Specifications
Designer: Jamie Franki (obverse), Felix O. Schlag (reverse)
Denomination: $0.05
Composition: 75% copper, 25% nickel
Diameter: 20.5 mm
Weight: 5.00 g
Edge: plain


< 1997-P Matte Proof Jefferson Nickel | 2020-W Jefferson Nickel >