Proof Jefferson Nickels were struck for collectors for the first year of the series in 1938. The number of proof nickels struck vastly outnumbered the other denominations due to the increased interest generated by the new design. During this era, the Philadelphia Mint issued proof coins to collectors either individually or as part of a complete set.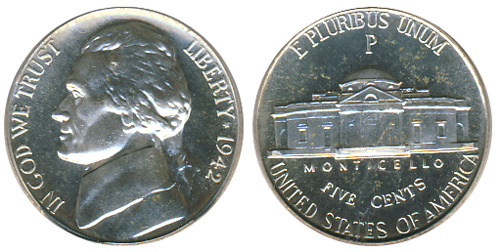 The mintages for proof nickels would more closely track the other denominations during the following three years. Then, the 1942 Proof Jefferson Nickel would be struck both in standard composition and silver, prompting another year of heightened interest from collectors. Proof coins would be not be produced again until the release of the 1950 Proof Set. From this time onward, proof coins were issued as part of a set containing all denominations struck for the year.
Another gap in production took place from 1965 to 1967, when only Special Mint Sets were produced. From 1968 onwards, all proof coins were struck at the San Francisco Mint and once again issued within annual Proof Sets.
The lowest mintage Proof Jefferson Nickels are the earliest years of issue from 1938 to 1942. Other notable issues include the 1994-P and 1997-P matte proof issues, which were only included within limited edition commemorative coin sets. From 1992 to present, proof nickels have been included in both the regular Proof Set as well as the Silver Proof Set, resulting in elevated mintages.


Proof Jefferson Nickel Mintages
| | |
| --- | --- |
| 1938 | 19,365 |
| 1939 | 12,535 |
| 1940 | 14,158 |
| 1941 | 18,720 |
| 1942 | 29,600 |
| 1942-P Silver | 27,600 |
| 1950 | 51,386 |
| 1951 | 57,500 |
| 1952 | 81,980 |
| 1953 | 128,800 |
| 1954 | 233,300 |
| 1955 | 378,200 |
| 1956 | 669,384 |
| 1957 | 1,247,952 |
| 1958 | 875,652 |
| 1959 | 1,149,291 |
| 1960 | 1,691,602 |
| 1961 | 3,028,144 |
| 1962 | 3,218,019 |
| 1963 | 3,075,645 |
| 1964 | 3,950,762 |
| 1968-S | 3,041,506 |
| 1969-S | 2,934,631 |
| 1970-S | 2,632,810 |
| 1971-S | 3,220,733 |
| 1972-S | 3,260,996 |
| 1973-S | 2,760,339 |
| 1974-S | 2,612,568 |
| 1975-S | 2,845,450 |
| 1976-S | 4,149,730 |
| 1977-S | 3,251,152 |
| 1978-S | 3,127,781 |
| 1979-S | 3,677,175 |
| 1980-S | 3,554,806 |
| 1981-S | 4,063,083 |
| 1982-S | 3,857,479 |
| 1983-S | 3,279,126 |
| 1984-S | 3,065,110 |
| 1985-S | 3,362,821 |
| 1986-S | 3,010,497 |
| 1987-S | 4,227,728 |
| 1988-S | 3,262,948 |
| 1989-S | 3,220,194 |
| 1990-S | 3,299,559 |
| 1991-S | 2,867,787 |
| 1992-S | 4,176,560 |
| 1993-S | 3,394,792 |
| 1994-P Matte Proof | 167,703 |
| 1994-S | 3,269,923 |
| 1995-S | 2,797,481 |
| 1996-S | 2,525,625 |
| 1997-P Matte Proof | 25,000 |
| 1997-S | 2,796,678 |
| 1998-S | 2,965,299 |
| 1999-S | 3,347,966 |
| 2000-S | 4,047,993 |
| 2001-S | 3,184,606 |
| 2002-S | 2,277,720 |
| 2003-S | 3,298,439 |
| 2004-S Peace Medal | 2,992,069 |
| 2004-S Keelboat | 2,992,069 |
| 2005-S Buffalo | 3,344,679 |
| 2005-S Ocean | 3,344,679 |
| 2006-S | 3,054,436 |
| 2007-S | 2,577,166 |
| 2008-S | 2,169,561 |
| 2009-S | 2,179,867 |
| 2010-S | 1,689,216 |
| 2011-S | 1,673,010 |
| 2012-S | 1,237,415 |
| 2013-S | 1,237,926 |